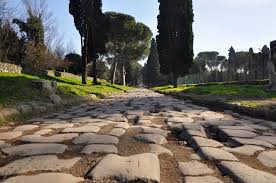 Margaret Curtis
The Appian Way, celebrated as "queen of the long roads", was the first of the great highways created to link Rome with distant parts of Italy. Appius Claudius constructed the first section in 312 BC, driving the road across the Pontine Marshes, along the west coast and inland to Capua, linking a number of important settlements. Eventually it was extended to the port of Brindisi in the heel of Italy. As well as considering the history and construction of this iconic road, we shall look at some of the ancient settlements along its route, and Rome's relations with them.
No previous knowledge is required, and all are welcome to attend. However, this dayschool may be of particular interest to students who are planning to take part in next April's study tour, which will follow the route of the Appian Way from Brindisi back to its source in Rome.
This day school is organised in connection with Margaret Curtis' study tour to the Via Appia in April 2018. But can also be attended as a stand alone event.
Dayschool: Monday, 30 October 2017         Time: 10.30am-4.30pm
Venue:
Cross Street Chapel
Cross Street, Manchester, M2 1NL
| | | | |
| --- | --- | --- | --- |
| Price | Concessions | Minimum No. | Maximum No. |
| £35 | n/a | 16 | 30 |
Contact Birgitta Hoffmann, 55 Broadwalk, Wilmslow, Cheshire, SK9 5PL
phone: 07747 533 070 or email: latinteacher@btinternet.com