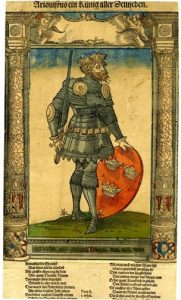 Birgitta Hoffmann
We will start the spring term with the end of the Ariovistus campaign before we jump forward three years to the Campaigns in the Belgica, the Rhine Crossing and the first British expedition.
We will continue to translate and discuss the text as well as alternating with grammar exercises and exercises of translating English into Latin. In addition, we will be reading passages from the later books and the Gallic War to study particular grammatical usage.
For the grammar exercises we are using Wilding's, Latin course for schools. Vol. 3.
Learning materials will be provided, but a Latin/English dictionary will be useful.
Newcomers are always welcome but should ensure that they are familiar with the material in Wilding's up to Volume 3, feel free to ask to come for a trial session, if you are unsure.
Day: Thursdays, Time: 6.30-8.30pm
6 sessions, starting from 19th April, 2018.
Venue:
55 Broadwalk,
Wilmslow, SK9 5PL
| | | | |
| --- | --- | --- | --- |
| Price | Concessions | Minimum No. | Maximum No. |
| £10/session | n/a | 2 | 7 |
To book, complete the MANCENT booking form and send it with payment to
Birgitta Hoffmann
55 Broadwalk, Wilmslow, Cheshire, SK9 5PL
email: latinteacher@btinternet.com phone: 0161 300 5532 mobile: 07747 533 070