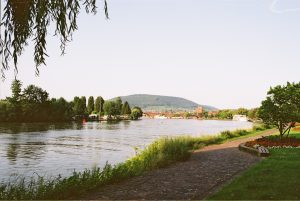 View from the Roman fort at Miltenberg/Main
to the contemporary Iron Age hillfort 
Birgitta Hoffmann, Euan MacKie and David John Woolliscroft
Roman Frontiers were complicated, even in the late first and second century. On the one hand wall and fences with watchtowers clearly indicating where Rome started, on the other hand a Roman foreign policy that stretched a long way in front of it and Roman Emperors who were able to start a war for reasons sometimes unconnected with the situation on the Frontier.
So how did the Iron Age Societies surrounding the Roman emperor deal with their capricious neighbours? How did you manage to get the latest luxury for your demanding and remarkably well-informed wives and grandchildren, while keeping the lives of your family out of the control of the Roman army? And could you? We are looking at what the historical sources, but in particular the archaeology tells us about life with Rome from the Iron Age perspective from Britain to the Black Sea.
11.00-11.15  Welcome and Introduction
11-15-12.30 Dr. Birgitta Hoffmann -Being good neighbours – The many problems and responses of a Roman neighbour
12.30-13.30 Lunch
13.30-14.30 Prof. Euan MacKie – Leckie and Dun Ardtreck – Meeting the Romans in the West of Scotland.
14.30-14.45  Coffee
14.45-15.45 Dr. David Woolliscroft – The Rome and the Iron Age in Eastern Scotland
15.45-16.00 Discussion
16.00 Close.
Dayschool: Friday, 28th October 2016 Time: 11am– 4pm.
Venue:
Wilmslow Parish Hall
Cliff Road, Wilmslow, Cheshire, SK9 4AA 
Please note: The car park is a pay and display car park (£2).
| | | | |
| --- | --- | --- | --- |
| Price | Concessions | Minimum No. | Maximum No. |
| £32 | £28* | 9 | 35 |
*£28, if booked before 30th September, 2016.
To book, complete the MANCENT booking form and send it with payment to
Birgitta Hoffmann, 55 Broadwalk, Wilmslow, Cheshire, SK9 5PL
email: latinteacher@btinternet.com phone: 0161 300 5532/07747 533 070
or buy online via Eventbrite (please note, there is a £2.34 admin charge for this service from Eventbrite).