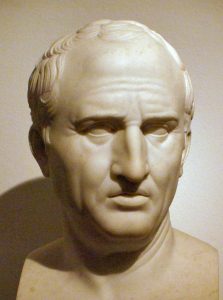 Birgitta Hoffmann
Cicero's Fourth Speech against Catiline was given on the same occassion as the speeches of Caesar and Cato recorded by Sallust. We are translating the speech and comparing it with the account of Sallust, that we read last term and to study, who a rhethorical argument is developed.
The text will be provided. But a Latin-English Dictionary and grammar may be helpful. Newcomers are always welcome¸ but should ensure that their Latin is up to an advanced reading class; feel free to ask to come for a trial session, if you are unsure.
Day: Mondays          Time: 1.40-3.40 pm
5 sessions, on  8th, 15th and 22nd May and 12th June, 2017 
Venue:
St. James Parish Hall
Birch Road,
Gatley Green
Gatley,
Cheshire,
SK8 4NF.
| | | | |
| --- | --- | --- | --- |
| Price | Concessions | Minimum No. | Maximum No. |
| £48 | n/a | 6 | 9 |
To book, complete the MANCENT booking form and send it with payment to
Birgitta Hoffmann
55 Broadwalk, Wilmslow, Cheshire, SK9 5PL
email: latinteacher@btinternet.com phone: 0161 300 5532 mobile: 07747 533 070