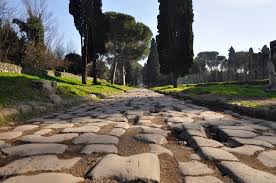 Dr. Margaret Curtis will lead from April 6-April 13th a study tour to the Via Appia starting from Brundisium/Brindisi and ending in Rome.
The tour will cover the major sites along the route, as well as the chance to walk the old route in Latium, where it is well preserved.
Programme:
6th April: Flight to Brindisi and transfer to hotel at Polignano
7th April: visit the site at Cannae and the Roman remains of Beneventum
8th April: Visit Capua/Capua Vetere and the Roman town of Sinuessa
9th April: Formia and  Terracina
10th April: The temple of Diana at Ariccia, Lake Albano/Albanum and Lake Nemi
11th April: The Via Appia at Ariccia and Albanum
12th April: Approaching Rome: the via Appia on the approaches to Rome.
13th April: return to the UK:
Price: 1,272 GBP plus flights
(for suggested flights: MAN/BDS  16.50 – 21.00 on April 6th with Ryanair and FCO/MAN  12.10 – 14.15 on April 13th with Jet2)
Detailed programme and booking form
there will be a day-school on Oct 30, 2017, at Cross Street Chapel to introduce you to the sites.