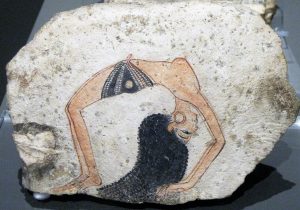 Joanne Backhouse
Images drawn by the artists of Deir el-Medina, on potsherds and fragments of limestone, reveal much about the lives and loves of the ancient Egyptians.  These figured ostraca provide a unique insight into the mind-set of non-royals during the New Kingdom.  Including images of satire, humour, religious dedication, domestic life and erotica, this course will examine what they can tell us about daily life in ancient Egypt. Material will be drawn from research for my successfully completed PhD and will include much unpublished data.
Recommended reading:
Backhouse, J. (2012) 'Figured Ostraca from Deir el-Medina', in Abu. El Gawad, H., Andrews, N., Correas-Amador, M., Tamorri V. & Taylor, J. (eds) Current Research in Egyptology 2011. Oxford: Oxbow Books, 23-39.

Brunner-Traut, E. (1979) Egyptian Artists' Sketches: Figured Ostraka from the Gayer-Anderson Collection in the Fitzwilliam Museum, Cambridge by Emma Brunner-Traut, Leiden: Nederlands Instituut voor het Nabije Oosten.

Page, A. (1982) Ancient Egyptian Figured Ostraca in the Petrie Collection. Warminster: Aris & Phillips Ltd

Peck, W. H. & Ross, J. G. (1978) Drawings from Ancient Egypt. London: Thames and Hudson.
Dayschool: Monday,  19th February 2018    Time: 10.30am– 4.30pm
Venue:
Cross Street Chapel
Cross Street, Manchester, M2 1NL
| | | | |
| --- | --- | --- | --- |
| Price | Concessions | Minimum No. | Maximum No. |
| £40 | | 6 | 40 |
To book, complete the MANCENT booking form and send it with cheque payment to:
Dr Joanne Backhouse, 42 Urmson Road, Wallasey, Merseyside, CH45 7LG
email: joback42@liverpool.ac.uk