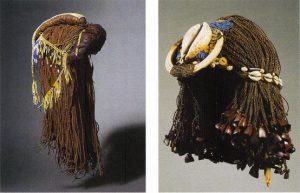 Joanne Backhouse
Adornment of the body is a personal statement.  It demonstrates affiliation and illustrates status. This day school will consider how and why the Ancient Egyptians decorated their bodies. Why the Egyptians depicted themselves wearing false beards and bulls' tails will be considered, alongside the significance and placement of tattoos; this includes new research and evidence. The importance of hair, hairstyles and wigs will be examined, for men and women, as will the changing fashions which the Egyptians donned. Both physical evidence and artistic representations will be considered.
Recommended reading (for publication in brochure):
Austin, A. & Gobeil, C. (2016) 'Embodying the Divine: A Tattooed Female Mummy from Deir el-Medina, Bulletin de l'Institut Français d'Archéologie Orientale, 23-46.
Bianchi, R. S. (1988) 'Tattoo in Ancient Egypt', in A. Rubins (ed.), Marks of Civilization: Artistic Transformations of the Human Body. Los Angeles, 21-28.
Haynes, J. (1977) 'The Development of Women's Hairstyles in Dynasty Eighteen', Journal of the Society for the Study of Egyptian Antiquities 8, 18-24.
Robins, G. (1999) 'Hair and the Construction of Identity in Ancient Egypt c.1480 – 1350 B.C.', Journal of the American Research Center in Egypt 36, 55-70.
Vogelsang-Eastwood, G. (1993) Pharaonic Egyptian Clothing. Leiden: Brill.
Dayschool:  Monday, 12th November 2018          Time: 10.30am– 4.30pm. 
Venue:
Cross Street Chapel, Cross Street, Manchester, M2 1L
| | | | |
| --- | --- | --- | --- |
| Price | Concessions | Minimum No. | Maximum No. |
| £40 | | 6 | 35 |
To book, complete the MANCENT booking form and send it with payment to
Dr Joanne Backhouse, 42 Urmson Road, Wallasey, Merseyside, CH45 7LG Phone: 07724947963 Email: joback42@liverpool.ac.uk