Due to circumstances beyond MANCENT's control, the tour will not go ahead at this point. We hope to offer it again next year.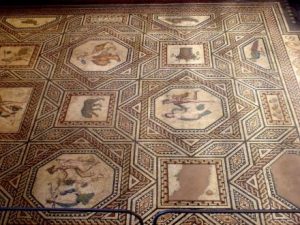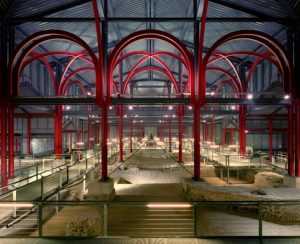 From top left to bottom right: Villa Borg, Porta Nigra in Trier, Diogenes-Mosaic in Cologne, Roman Baths in Xanten.
Birgitta Hoffmann
We are currently gauging interest for a study tour of Roman Germany in May 2018.
The plan is to visit the following sites:
Preliminary programme (depending on flight and hotel availability)
Day 1: Fly to Luxembourg or Frankfurt and take bus to Trier, if possible stop at Echternach, for the Cathedral founded by Anglo-Irish monks on the site of a Roman villa.
Day 2: Tour of Roman Trier, visiting the Porta Nigra, the Römerbrücke and the Viehmarkt- and perhaps the Barbarathermen, and the Cathedral and the frescoes from the late Roman palace.
Day 3: Tour of the Landesmuseum Trier and the Kaiserthermen
Day 4: visit the reconstructed Villa Borg and the Roman villa at Andernach. Arrive in Cologne.
Day 5: visit the Roman Remains in Cologne (Cathedral, Governor's palace) and it possible The Roman Museum otherwise the Romanesque churches and their Roman and sub-Roman remains.
Day 6: travel to Xanten via Kleve, the home of Anne of Cleves and the Roman and Frankish museum. Arrive in Xanten and visit the Cathedral.
Day 7: visit the Roman town and Archaeological Park  at Xanten/Colonia Ulpia Traiana
Day 8: return to Manchester.
as well as a number of the Roman villas of the area: the Roman area at Echternach, Andernach and the reconstructed villa at Borg.
Please drop us a line if you are interested and we will keep you informed when further details become available.
Please contact:
Birgitta Hoffmann, 55 Broadwalk, Wilmslow, Cheshire, SK9 5PL
email: latinteacher@btinternet.com phone: 07747 533 070